Our Services
We provide managed support for our Linux and Windows Virtual Private Servers (VPS), Cloud instances, and Dedicated Servers. Including private and public cloud environments. As business infrastructures can get very complicated, we work closely with our clients to structure a managed solution best-suited for their specific IT needs.
We provide customizable services because we understand our clients have unique requirements. Through this flexibility, we are focused on giving the client only what they need. Our comprehensive server support consists of certified engineers that provide critical services like managed backup and restores, constant monitoring, continuous malware and hack scanning, and comprehensive troubleshooting.
As we design and build our own services, we are highly knowledgeable about the hosting environments, thus we are able to deliver better reliability, improved security, responsive problem resolution, and an improved customer experience.
Services Provided
---
24/7 Ping Server Monitor
Network connections are continuously monitored so we are able to view connection statistics information such as up-time, outages, failed pings, and so forth.
Managed Reboot
Sometimes, you want to perform reboots yourself. With managed reboot, you have the ability to reboot from the user-end, without on-site technicians.
Managed Backups and Restores
Dedicated hardware backups, full and incremental backups, bare-metal recovery, snapshots and continuous data backups are performed to maintain high performance.
Kernel Care Rebootless OS Updates
Our automated Kernel Security Rebootless OS Updates ensure you will always have the latest kernel security patch. Automatic updates prevent your system from being susceptible to unforeseen incidents.
Server Management
Our efficient system administration software allows easy access and control to manage hardware issues, firmware upgrades, and so on. Having a server management tool is imperative to a successful organization.
Server Hardening
Enhanced server security measures ensure your system does not get compromised. With our different server hardening options, you can select the best-fit one for your unique needs.
Server and Resource Monitoring
A server's system resources such as CPU Usage, Memory Consumption, I/O, Network, Disk Usage, Process, etc. are monitored for better capacity planning and to provide a better end-user experience.
App Installation and Comprehensive Troubleshooting
We help with installations and troubleshooting.
Security Services
Attacks have become more sophisticated. Our built-in layers of security ensures your data is kept safe and secure, especially when there is highly critical information being transferred.
Web Application Firewall (WAF)
An easy to use Firewall Management tool is available to filter inbound and outbound traffic, prevent unauthorized users from accessing your private hosted environment, etc.
Advanced DDoS Protection
DDoS attacks are on the rise and are more sophisticated than before. Our advanced protection ensures you will not have to experience your network under attack.
Continuous Malware and Hack Scanning
Possible infections and backdoors on your website are detected by our scanners to keep your website safe.
Supported Technologies
---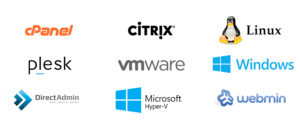 And many more!